Program Print Templates
Content
Introduction
Explanation and Purpose of Program Print Templates
Security Level Requirements and Access
Adding and Maintaining Program Print Templates
Introduction
This article is meant to assist you with the details in Adding and Maintaining Program Print Templates.
If you have a question not addressed here, you can search at the bottom of this article in Related Articles or contact support at support@extendedreach.com.
Explanation and Purpose of Print Templates
Print Templates are printable forms that auto-fill with information from a Program. These completed forms are not saved/stored in the system, but can be regenerated at any time with up-to-date information from the program database. Examples of Print Templates are face sheets or case note summaries.
Security Level Requirements and Access
You must be an Agency Administrator to access the "Administration" menu on the left side of your Workspace. Go to "Program Settings" and click on "Program Print Templates".
Image: "Print Template Access Screen"
Adding and Maintaining Program Print Templates
Once in "Print Templates", select an existing print template from the list or create a new one by clicking "Add Program Print Template".
If Cloning a Print Template, click on an "Clone Print Templates" within an existing Print Template. Cloned templates will be titled, "COPY OF…"
Image: "Add Print Template"
Image: "Print Template: Clone Screen"
If editing an existing Print Template, click on "Edit". Within the General screen, complete the fields. Required fields are highlighted, while optional fields are not.
Image: "Program Print Template: General Screen"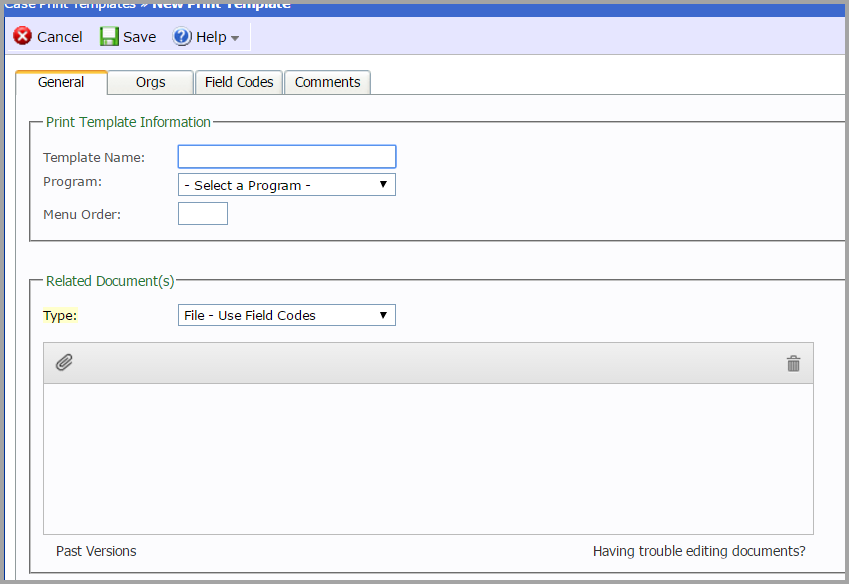 Template Type Information
Description
Text – Use Field Codes
Enter in text into the narrative box using field codes.
Once completed, the narrative box will display the field code information
Text and User Attached File
Allows users to add a text narrative as well as attach a file
File – Use Field Codes
Upload documents that use extendedReach field codes to populate the fields
File – No Field Codes
Upload documents without field codes
File – User Will Attach
User will attach a file (PDF or Word)
Photo – User Will Attach
User can attach a photo(s)
Attachment Icon
Click on the paperclip to attached a MS-Word document(s) if you selected a "Type" (from above) that includes attaching a document
Narrative
Add the narrative with Custom Field Codes, from the "Custom" Tab, if you wish. For more support regarding Custom Fields, see Related Articles. This narrative will appear when you access this Program Report in the eR system
Once you save your work, your Print Template is now complete and printable. Your new Print Template is now accessible from your Workspace within a case, and usable in your agency's workflow.
To access these print templates, go to a case profile and click on the Print button and select from the drop-down menu. Click on the Print Template name to open document and print it.
Image: "Accessing Printable Template"